Fear is to the devil what Faith is to God.
Fear Attracts Evil Powers. Faith brings God into our daily lives. It acts as a magnet and draws or attracts the power of God into our lives. Faith brings His life into ours! Now, fear acts in the same way. It too is a very "attracting" force. It attracts evil powers of darkness. These are "deadly" forces because that is what they produce - death! They can kill our joy and peace in the Holy Spirit.
If life in God speaks of love, joy, peace... then death speaks of hatred, sadness, distress ...! Fear opens the door of our heart. This allows all kinds of dark, evil thoughts and feelings to come in. When our emotions are filled with fear, this can lead to slavery and bondage to fear. We will end up serving what we fear!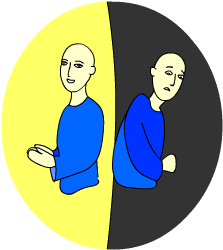 2. Faith And Fear Do Not Mix
Like oil and water, faith and fear do not mix. If we start with faith and express it by resisting the devil, our enemy will flee from us (Jas: 4:7). If we cover in fear, the powers of darkness (the devil and demons) will enslave us and faith will flee from us. It is just that simple.
3. Balanced Truth Sets Us Free
The devil seeks to deceive us by either hiding the truth or by taking a part of the truth and carrying it too far. In regard to demons, he would like for us to think they are inactive or don't even exist, or to see a demon behind every problem in our life.
In recent years, some have talked so much about demons, that many people have been brought into a place of great fear. Instead of being set free from their problems, they have the added weight of worry.
B. DEMONS ARE NOT LIKE GOD
1. Demons Are Not All-Knowing
The devil and his demons do not know everything, nor can they read our minds. They don't know how we will react to thoughts or feelings they may put in our minds and hearts. They must wait and see what we do. In time they may become familiar with our patterns of behavior, but they cannot foresee or determine our actions.
Satan certainly did not foresee the outcome of his attack on Job. Nor did he expect the victory which would come to Jesus through the cross.
Certainly they were most disturbed to be around Jesus. They also quickly left the scene when they faced the apostles in the Book of Acts.
3. Demons Are Not All-Powerful
When David sang songs to King Saul, the evil spirit which troubled him would depart. Powerful praise and worship of the Lord will drive demonic forces away!
5. An Open Door To Demons. The devil and his demons may attack us. They cannot, however, enter our lives unless we open the door by way of
a. Doubt
b. Dis-obedience or
c. Deception.
They do not possess the attributes of almighty God. In fact, the enemy is no match for who is walking in faith and obedience.
The sooner we accept this truth, the sooner we will move from fear to faith, and from defeat to victory. These are, indeed, basic principles for the victorious Christian life.
C. DEMONS WERE DEFEATED BY JESUS CHRIST
Our victory over demon powers is clearly stated in Scripture. One of the key verses is found in Paul's Letter to the church at Colossae: "God disarmed and defeated the principalities and powers ruling demonic spirits. He made a public display of them. God won the victory through Christ and his cross" (Col. 2:15 sm.).
In this passage we are told that God has disarmed and defeated the ruling powers in the world of evil spirits. This refers to powerful demons in the forces of Satan. They were stripped of their arms and authority. They are now defenseless and disgraced.
The language used in this verse describes a military custom of the Roman armies. After a great victory, they had a parade. The conquering general put iron manacles and chains on the defeated leader. He then tied the defeated leader to his chariot with a chain. The defeated armies were forced to march, bound in chains, behind the triumphant general.
This is a vivid picture of Christ's victory parade in which the defeated enemy (the devil and his princes) are put to public shame. It is a victory which was won by the Lord Jesus Christ at Calvary, when He was crucified.
1. Authority Surrendered
This is what happened at Calvary! Satan and all of his demons were totally defeated. They were put to an open display of shame and disgrace on that first resurrection Sunday morning.
2. Authority Transferred
Christ now holds in His hands forever the keys of Hell and death. He holds them because He was victorious over sin, Satan, demons and death. He was totally triumphant over the devil, over all principalities and powers. He won it all!
Not only was the victory His, but ours as well. Jesse's victory is the for all of us who love and serve Him. Jesus experienced the shame of dying like a criminal on a cross that we might live in victory. We must see that. We must know it. We must walk in the light of that revelation. It is our key to victorious Christian living!
a. No Authority Over Believers. It is important to know that when the devil was defeated, so were all of his demon forces. They have no authority or power over our lives except that which we allow them to have.
What a powerful picture this is of the believer's authority. It is ours when we come under the headship of the Lord Jesus Christ.
D.BELIEVERS HAVE AUTHORITY OVER DEMONS.Christ's triumph over Satan on the cross of Calvary means we are now in charge also.Every believer who is living under the authority of God has the right to tell the devil(and his demons) where to go and what to do.
1.Authority Through Submission we are taught to resist the enemy and see him flee.The Apostle James uses a military term in explaining this truth in his Epistle:
"Therefore submit to God resist devil and he will flee from you "(Jas 4.7).
"The word "submit" means to be under obedience to higher rank,or come under authority (that is to be totally obedient to the Lord)
When we come under the authority of God, His authority comes up on us .Under that authority we can stand up and firmly resist the devil and his demons.When we do they will turn in fear and run away.
This principle of gaining authority by being under authority is illustrated in the ministry of Jesus.A Centurion came to Jesus wanting his servant healed.
Jesus agreed to go the servant and heal him.The Centurion responded, "..it isn't necessary for you to come. If you will only stand here and say,'Be healed, my servant will get well!
"I know , because I am under the authority of my superior officers and I have authority over my soldiers,and I say to one, 'Go,'and he goes ,and to another,'Come,and he comes ,and to my slave boy .'Do this or that,'and he does it.And I know you have authority to tell his sickness to go and it will go!"(Matt 8: 5-9)
Jesus Has All Power
"All power in heaven and on earth has been given unto me .Therefor go and make disciples in all nations...And be sure of this: I am with you always,even to the end of the age "(Matt 28:18-20 smf)
The word power in the scripture above means power to rule,to take authority and have dominion. Now if Jesus has ALL power and authority that means the devil has none.Through his death on the cross,Jesus dethroned the devil and took away his power of death.
Jesus strongly stated truth again the Apostle John in his heavenly vision ."Don't afraid,-I am the first and the last .I died,but see, I am alive for evermore.I have the keys [authority]of death and the grave "(Rev1:17,18 smf)
Jesus Gave Power To Believers Not only does Jesus have all power and authority, but He has given that power to His disciples of all ages!
"The seventy I disciples returned with great.joy. 'Lord, they said. 'even the demons submit to us when we use your name.
'And Jesus said to them, ....... and I have given you authority over all of the power of the enemy. You've power to crush underfoot scorpions and serpents [demonic powers]. Nothing shall harm you! ... (Luke 10: 17-19 smf).
"These signs shall follow those who believe: They shall use the authority of my name to cast out demons..." (Mark 16:17 smf).
In the light of the above scriptures, it is plain that we have no reason to fear demonic forces. Their power and authority have been taken away. It is they who tremble in our presence when we stand strong in the victory of Calvary, submitted to. the conquering Christ.
Let us now consider how to put the truth of God's Word into action. Principles must be proven in practice.
F. THE POWER OF GOD'S PRESENCE
1. Demons Cannot Harm Believers It is of special interest to note that no curse can be placed on us and no evil magic can be done against us. Even witchcraft is of no effect as long as we submit to the royal rule of our God. When we walk in faith and obedience, no power of the enemy can harm us.
This is a truth which is for God's people of every age. It rests upon the principle of divine dominion. As said before, when we come under God's authority, His authority comes upon us.
By Ralph Mohoney
World MAP